Our render cleaning service removes and treats Red & Green Algae, Fungi and other contaminants on commercial properties.
Are You Looking For K-Rend Cleaners in Swansea?
See how STR Cleaning provide removal and treatment of algae and fungi on rendered and k-rend surfaces.
Why Use a Commercial Render Cleaning Company?
Our biocidal detergent is a high purity quaternary ammonium registered with the Irish Pesticide Control Service and by the British Health & Safety Executive.
It is water soluble, does not smell or leave smears. It breaks down in contact with biomass. 
The environmental footprint remains local, and limited in time.
Harmless to animals, unless ingested.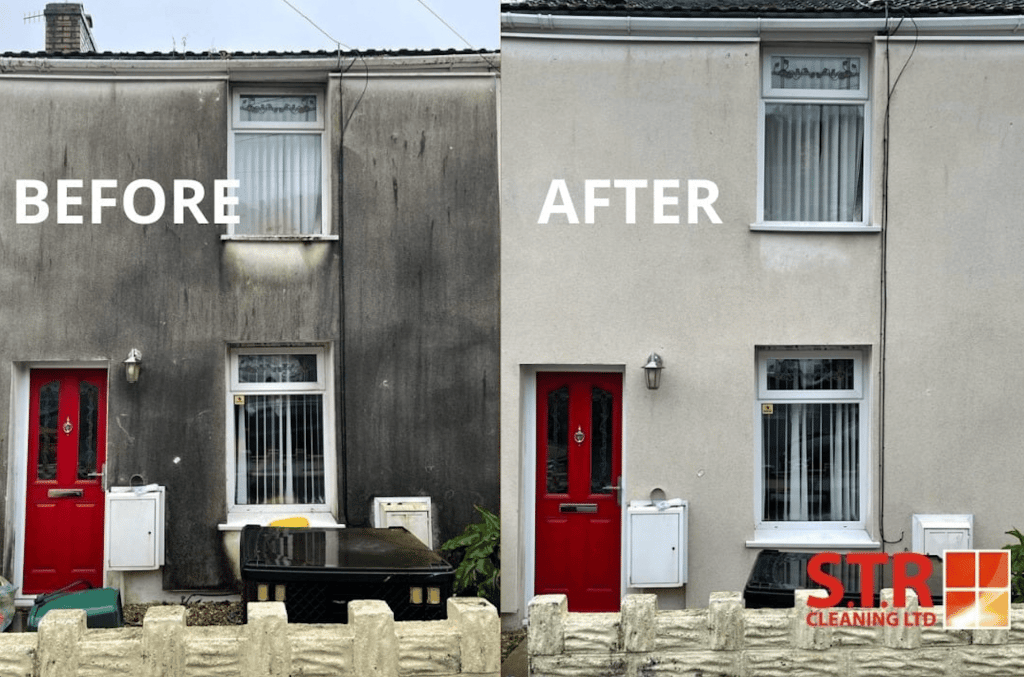 A dirty building can have a very negative impact on peoples perception of your home or business premises, so we therefore recommend having the exterior cleaned on a regular basis to prevent the build-up of dirt, grime, and algae.
Excellent service thank you
Had STR to give the house a good freshen up and Simon and Gary turned up promptly as arranged. Anyway, I was more than impressed with the difference before and after. Thoroughly recommended.
Morgan Roberts
2022-06-16
Fantastic service
Cherie Coughlan
2022-06-10
Great service, highly recommend this company
Fantastic service! Couldn't recommend enough.
stephan Wilcox
2022-05-31
Great service, professional and left the property looking great , thank you.
Thank you very much to Simon, Gary and the Team for a fabulous job, cleaning down our garden cabin, decking, walls and patios. A polite, professional, hard working team that were a pleasure to work with and with brilliant results. I would thoroughly recommend them.
Louisa Marie Lorey
2022-05-24
Friendly, reliable and their work is of a very high standard. I would highly recommend Simon and the team
Great service from STR Cleaning! Simon has been very helpful 😊
I contacted Simon at STR Cleaning when we bought our new house as there was work needed at heights I couldn't get to on ladders. The side of our house that faces west had become quite dirty after 10 years of rain, with a build up of moss in the joints of the brickwork. Simon used specialist equipment to kill the moss and cleaned the brickwork in such a short time compared to how long it would have taken me. Because of how happy we were with the work that Simon had done, he then came and cleaned the carpets for us in two bedrooms which again he did to a brilliant standard. I cannot fault the work that Simon carried out and would not hesitate to recommend him in the future.
Who are K Rend?
K Rend are part of Kilwaughter Minerals and are the largest UK independent silicone render manufacturer with over 30 year's experience in the construction industry.
What is K Rend?
K Rend is a coloured render which goes on the outside walls of your house instead of sand, cement & paint or bricks. The colour pigment is within the render meaning you don't have to paint it.
Why is Coloured render better than sand, cement & paint?
You don't have to paint coloured render, which means lower costs and less hassle to maintain your property in the future.