Domestic Cleaning Service
Effectively remove paint, biological matter and general dirt and grime without causing harm or shock to the substrate.
Are You Looking For Domestic Cleaning in South Wales?
STR Cleaning Services clean gutters and weatherboards, steam clean render, and jet wash driveways and patios across South West Wales.
Hot Water Extraction System
For carpet and rug cleaning we use a hot water extraction machine.
It does not matter how dirty or soiled the carpets are, this machine will remove it all.
Jet Wash - The Difference can be Dramatic!
Are your drive, pathway, patio or steps looking tired, with weeds and moss?
Our power washing can lift the whole look of a property.
We'll use professional equipment and materials to clean outside areas to a high standard and with a long lasting finish.
Call us today to get a free no obligation quote.
Our Stonework cleaning system is a highly efficient and powerful way to cut through years of accumulated dirt, while being gentle on your building, stone and mortar.
Revitalise the look of your home, business or garden with our professional stone cleaning service. 
Our biocidal detergent is a high purity quaternary ammonium registered with the Irish Pesticide Control Service and by the British Health & Safety Executive.
It is water soluble, does not smell or leave smears. It breaks down on contact with biomass. 
The environmental footprint remains local, and limited in time.
Harmless to animals, unless ingested.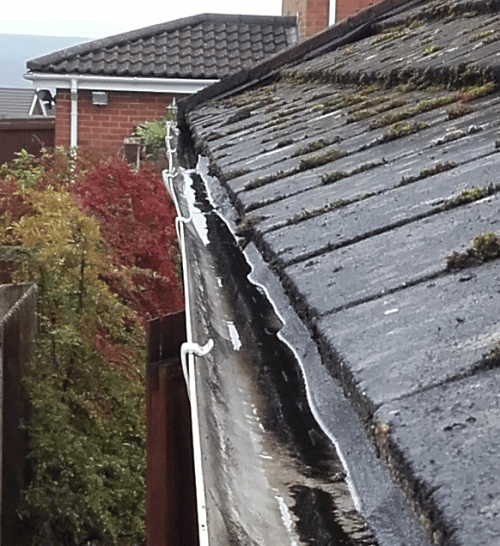 Can you see plant growth in your gutters from the ground? Is water is pouring over the gutters edge when it rains?
Then you need to call us to clear your gutters. It is possible water is already causing damage to your building.
Call 07907 191939 for a quick response
Gutter Cleaning - Outside
Dirty gutters and down pipes can really make you home look drab.
You will be amazed at the difference we can make to the look of your home when we have cleaned your gutters and down pipes.
Just call: 01792 293937 or 07909 191939
Had STR to give the house a good freshen up and Simon and Gary turned up promptly as arranged. Anyway, I was more than impressed with the difference before and after. Thoroughly recommended.
Morgan Roberts
2022-06-16
Fantastic service
Cherie Coughlan
2022-06-10
Great service, highly recommend this company
Fantastic service! Couldn't recommend enough.
stephan Wilcox
2022-05-31
Great service, professional and left the property looking great , thank you.
Thank you very much to Simon, Gary and the Team for a fabulous job, cleaning down our garden cabin, decking, walls and patios. A polite, professional, hard working team that were a pleasure to work with and with brilliant results. I would thoroughly recommend them.
Louisa Marie Lorey
2022-05-24
Friendly, reliable and their work is of a very high standard. I would highly recommend Simon and the team
Great service from STR Cleaning! Simon has been very helpful 😊
I contacted Simon at STR Cleaning when we bought our new house as there was work needed at heights I couldn't get to on ladders. The side of our house that faces west had become quite dirty after 10 years of rain, with a build up of moss in the joints of the brickwork. Simon used specialist equipment to kill the moss and cleaned the brickwork in such a short time compared to how long it would have taken me. Because of how happy we were with the work that Simon had done, he then came and cleaned the carpets for us in two bedrooms which again he did to a brilliant standard. I cannot fault the work that Simon carried out and would not hesitate to recommend him in the future.
Friendly people who vacuum cleaned our inaccessible first floor gutters using a long pipe system from the ground.
Contact Us About Our Cleaning Services