Coastal Housing
Render Cleaning - Case study
How to Save Time and Money on Planned Maintenance
A simple secret to saving you time and money
Planned maintenance is a huge cost for UK Housing Associations.
The UK Social Housing Sector alone spent 2.3 BILLION pounds on routine maintenance in 2019-20 (source Inside Housing).
Coastal Housing Association is based in Swansea and manages over 5000 homes. The welfare of their tenants comes first and this means maintaining these properties to the highest standards.
Someone who knows this only too well is Craig James who is the Planned Maintenance Officer for Coastal Housing.
As Craig explains:
"Maintaining our properties never ends and the welfare and well-being of our tenants is paramount at Coastal. I have to balance this with being accountable for costs, and the time it takes to complete each task. So saving time and money is a constant goal for us."
THE PROPERTY FOR THE TEST
Three-storey block of flats – Ty Mawr – in Swansea City Centre.
THE ALGAE
Craig and his team already knew that if left untreated the algae and mould would build up and cause specific issues such as:
Algae growth can spread causing moss & lichens to attach to the surface.

If allowed to accumulate, this can cause ingress of water, and damage to the wall itself.

The life of the render will be shortened

The property looks unsightly & uncared for – which is off putting to tenants and buyers alike.

It can cause the colour of the render itself to fade.
TRADITIONAL REMEDY
These issues were addressed by using outside contractors to completely re-paint the offending surfaces and this was both costly and time-consuming.
Disadvantages of this method:
This process is expensive and very time-consuming.

The contractors have to use extensive scaffolding (expensive) and sometimes there are problems with security in the city center with people climbing on them.

The scaffolding needs permits and specific RAMS.

Continually purchasing paint (chemicals) is not good for the environment or sustainable practice.
THE SOLUTION
Craig explains: "STR Cleaning suggested we test clean the property in a different way so that a complete repainting was needed less frequently. They also stated that this would save us both time and money. So we decided to test this method out"
STR cleaned the property using a biocide agent called Algoclear. This is known as a Quaternary Ammonium Compound or QAC for short.
A form of this compound is used to disinfect medical equipment and Algoclear is a more environmentally friendly substance than paint.
ADVANTAGES
This method does not need (expensive) scaffolding, as the cleaning can be performed from a moving elevated working platform (MEWP).
It is also far less expensive than paint and far better for the planet.
STR also employs a fully qualified painter and decorator who can "touch up" any blemishes on window sills or window frames and decorative facades.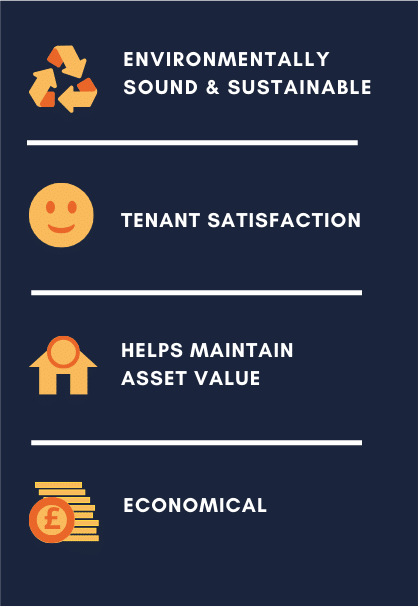 Money Saved £20,750

Time Savings 12 days – 2 days instead of 14

No Need For Scaffolding

No Need To Purchase Paint

A Sustainable Solution – Environmentally friendly

Window Sills & Facades Cleaned In Addition

Saves On Future Maintenance Costs
STR Cleaning are working with Coastal Housing Association to estimate the total cost and time savings across the whole of their portfolio of properties using this method.
" We were amazed by the result of this test. We saved a great deal of time and money.  Simon and his team, work quickly and effectively and really go the extra mile to ensure we were satisfied. We are now thinking of rolling this new method out to other properties in our portfolio."


Craig James – Coastal Housing Association
BOOK YOUR FREE CONSULTATION
– to see if you can save on YOUR planned maintenance.
Free initial onsite visit & quotation.
We work with your maintenance team & help you manage the work.
We give specific times for project completion.
CALL US TODAY
01792 293 937